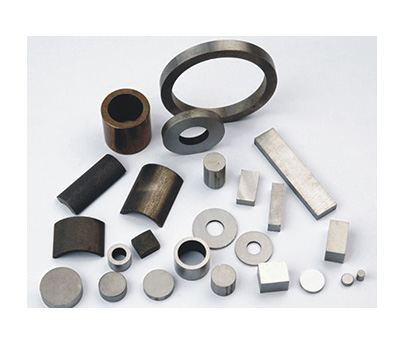 SmCo Magnets
are second generation of rare earth
permanent magnets
, it is made of samarium, cobalt and other rare earth metal. China Rare Earth Magnet Limited manufactures
SmCo5
and
Sm2Co17
magnets in various shapes. Many clients require grades YXG28, YXG30, SmCo28, SmCo24,SmCo30, etc.
Basis Magnetic Property:
Maximum working temperature: 250-350°C
Maximum Energy Product: (Bhmax)(15-35 MGOe)
Maximum Working Temperature: (Temp.Tw) 250-350
Induction Coercive Force: (Hcb) 4-12(Koe)
Residual Magnetism: Br 0.8-1.2(T)
Reversible temperature coefficient of residual magnetism (Br) -0.04 --- -0.01
Features:
1. Excellent Coercity
2. Nice temperature Stability
3. Due to price sensitivity of cobalt, its price is expensive and easy to fluctuate
Production Process of Samarium Cobalt Permanent Magnet:
Powder process→ Pressing→ Sintering → Magnetic property test → cutting → finished products
Samarium cobalt materials are commonly processed under un-magnetized circumstances, with diamond grind wheel and wet fine grinding, which is necessary. Because of low ignition temperature, samarium cobalt must not be dry completely. Just a small spark or static electricity in production can easily trigger a fire, with extremely high temperature, which is hard to control.
Main Hazards:
Samarium cobalt magnets are brittle. Please kindly protect your eyes, fingers and body when dealing with them.
Application:
SmCo permanent magnets have strong resistance to corrosion and oxidability, which are widely applied to aviation, and aerospace, national defense and military industry, microwave components, communication, therapy equipments, instruments, apparatus, various kinds of magnetic transmission devices sensors, magnetic processer, motor and magnetic lifting machines.
SmCo Magnets VS Sintered Neodymium Magnets
The differences between SmCo magnets and Sintered NdFeB magnets mainly include the following points:
1. Magnetic force
Neodymium permanent magnet
is more powerful than SmCo magnet in magnetic force.
(BH)Max of sintered NdFeB is up to 53MGOe, while the (BH) Max of SmCo material is 32MGOe.
SmCo material is stronger in resisting demagnetization than NdFeb material.
2. High temperature resistance
NdFeB is not superior as SmCo in high temperature resistance. The maximum working temperature of NdFeB is 200 ℃ and that of SmCo is up to 350℃.
3. Corrosion resistance
NdFeB magnets are not so good in resisting oxidation and corrosion. Generally they have to be protected by plating or even vacuum packing. Common types of coating include zinc, nickel, epoxy and others. SmCo magnets won't be rusting without plating.
4. Shape, processing and assembling
NdFeb and SmCo are both fragile material, so they cannot be manufactured by ordinary cutting processing.
The general processing method is wire-electrode cutting and diamond wheel cutting. So the producible shapes of these magnets are limited. Too complicated shapes are not workable. Relatively speaking, SmCo material is more fragile and more easily break. Therefore, please be very careful in assembling and using SmCo magnets.
5. Price
A few years ago, the price of SmCo magnets was twice or even more than that of NdFeB magnets.
In recent years, the price of NdFeB has risen greatly due to Country's restrictive measures in rare-earth mining. Basically, common NdFeB magnets are cheaper than samarium cobalt.
Updated Posts on SmCo Magnets or Permanent Magnetic Assembly:
SmCo30H Permanent Magnets 20170721
SmCo Magnets for Actuators, Motors, Pumps 20141231
Bonded SmCo Magnets