Speaker Magnet
Speaker Magnets Manufacturer China Rare Earth Magnet Limited

Speaker magnets are the general name for the permanent magnets used in loudspeakers, speakers and headphones. Magnets are the key parts of these kinds of commodities. It provides a permanent magnetic field for the coil in the speaker, rapidly alternating direction of the current brings cone vibrating back and forth, and then the audio signal comes out of the speaker.

The magnets used in speakers and headphones are mostly neodymium magnets and ferrite magnets . They are shaped in ring or disc of various sizes. Ferrite magnets are mainly used for low end and cheap loudspeakers and headphones. The tone quality is not good enough. Ferrite speaker magnets are usually big rings in sizes of D72xd32x15mm, D60xd24x13mm, D90xd36x17mm, D90xd36x15mm, D36xd18x8mm, D80 x d40 x 10mm, D80x d40 x 15mm, D90 x d50 x 15mm, D110x d60 x 15mm, D110 x d60 x 17mm, D110 x d60 x 18mm and etc.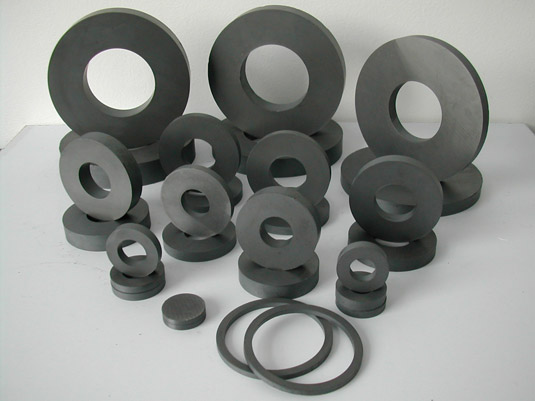 While neodymium permanent magnets are more often applied in medium and high grade headphones. The tone quality is excellent, sound elasticity is better, pretty good voice performance and the positioning of sound field is accurate. With the superior performance, small sized and light neodymium magnets can displace large sized and heavy ferrite magnets in some applications gradually.

Commonly used sizes of neodymium speaker magnets are D50x12mm, D50x10mm, D6x1mm, D6x1.5mm, D6x5mm, D6.5x1.5mm, D6xd2x1.5mm, D12x1.5mm, D12.5x1.2mm and so on. A variety of sizes can be customized as per customers and users' demands.
Updated Posts on Speaker Magnets or Assembly:
Application of Neodymium Permanent Magnets in Speakers 20191127