Neodymium Magnets
Neodymium magnets are the strongest, the most important and commonly used permanent magnets at present. Based on different manufacturing process, it is divided into sintered NdFeB magnets and bonded neodymium magnets.

China Rare Earth Magnet Limited produce and supply both sintered and bonded NdFeB magnets in a variety of grades, sizes and shapes. Welcome to watch our YouTube video. We also supply some relevant products like magnetic pole detectors which can distinguish N, S poles of magnets, and digital gauss meter which can measure surface fields (Gauss value) of permanent magnet.
Sintered NdFeB magnets are stronger than bonded NdFeB magnets. The grade of sintered NdFeB magnets is named as
N35~N52, N30M~N50M, N30H~N48H, N30SH~N45SH, N28UH~N40UH, N28EH~N38EH and N28AH~N35AH(Download Magnetic Property Sheet of sintered NdFeB).
Under the temperature of 80°C,N52 magnets are the strongest permanent magnet material. Customers or users can order the most suitable NdFeB magnets from us according to their actual needs and application.

China Rare Earth Magnet Limited manufactures bonded neodymium magnets through process of "compression molding" or "injection molding".
There are various grades of bonded NdFeB magnets in view of different magnetic characteristics and physical properties. The grades of compression molded bonded NdFeB magnets are named as BNP-6 ~BNP-12(Download Magnetic Property Sheet of Bonded NdFeB
). And the grades of injection molded bonded NdFeB magnets are named from BNI-3 to BNI-7. The most common used coating on bonded NdFeB magnets are black epoxy.
Neodymium Magnet Coatings:
NiCuNi, Zn, Black Epoxy, Sn, Au, etc.
New Colored Epoxy Coating:
Special epoxy coating - High resistance to water washing and wear
Shape / Common Magnetization Orientation of Permanent Magnet (Download Sketch Map)
Block / Magnetized through thickness, or width, length, multi-poles through thickness
Disc / Magnetized through thickness, diameter, multi-poles through thickness, diameter
Ring / Magnetized through thickness, diameter, Multi-poles through thickness or diameter, or radial magnetized
Arc / Magnetized through diameter

Updated Posts on Neodymium Magnets or Assembly:
Neodymium Motor Magnets Manufacturer 20181211
Custom Neodymium Magnets with Curved Surface
N35, N35M N35H D6x2.5mm Neodymium Disc Magnets in Stock 20180827
N52 Neodymium Block Permanent Magnets 20x10x3mm 20180716
N35 Neodymium Disc Magnets D15x2mm 20180621
Bicycle Speed Meter Induced Magnet 20180611
Neodymium Disc Permanent Magnets for Electronic Products 20180408
Radially Magnetized Bonded NdFeB Ring Permanent Magnets with Multi-poles on OD or ID 20170818
N38UH Neodymium Block Magnets for Electric Motor 20170810
Neodymium Rod Magnets with Stainless Steel Cover 20170807
N52 D9.5mm Neodymium Magnetic Balls Available 20170713
Sharp Rise in Neodymium Material Pr-Nd Price 20170711
Large Neodymium Permanent Magnets for Undulator 20170707
Neodymium Countersunk Magnets 20170629
Flexible Neodymium Magnets
Rubber Coated Neodymium Permanent Magnetic Assembly 20170517
Ring Magnets with Radial Magnetization 20170421
What is One-side Magnets?
Fabricating Process of Neodymium Magnets 20170313-3
Permanent Magnet for Kitchen Cabinets 20170312-2
Block Neodymium Permanent Magnet with Holes 20170303
Permanent Magnets with 3M Adhesive 20170116

| | |
| --- | --- |
| | |
Free Sample of Neodymium Magnets (NdFeB)

We are professional sintered neodymium permanent magnet manufacturer & supplier. We manufacture N52 & N50 super magnets,high temperature magnets like N38SH or other series M, H, SH, UH, EH, AH....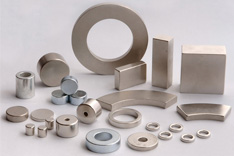 We manufacture China bonded magnets like BNP6-BNP12. We can make bonded ring magnets with N pole outside, S pole inside. Neodymium ring magnets with multi-poles through diameter are very common....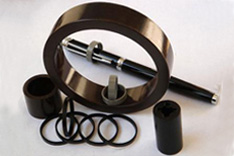 China HAST neodymium magnet is a special kind of permanent magnetic material which is highly anticorrosive. It is usually used in harsher and more demanding environment. Customers has strict requirement on weight loss....